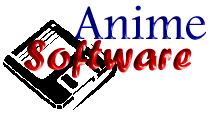 Here you will find links to Anime files in general, such as: Screen Savers, Win95 Plus! Themes, Add-ons to games such as Doom and Quake, some misc. programs and Info on software to view Japanese using your Web Browser. Please note that these are links to another sites on the web, so I am not responsible for the speed you'll get from them. I can't have all these programs, 'cause as almost everyone, I do not have unlimited space on the server.
Anime Screen Savers
Anime Windows 95 Plus! Themes
Game Add-Ons
Kiss and FKiss Sets
Miscellanous programs
Programs to view Japanese with your Web-browser
---
If you'd like to add an item or see your homepage included here, please, feel free to e-mail me at bruno.mlima@originet.com.br Also, give me your comments, suggestions and doubts.
---